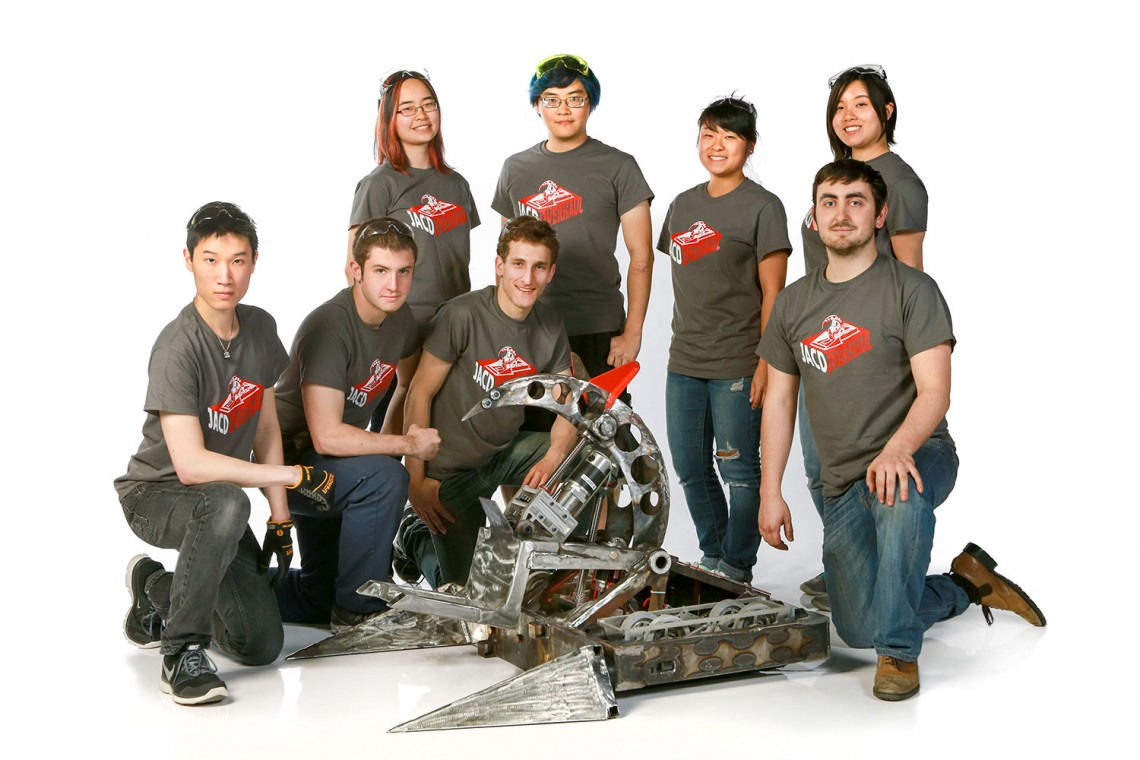 Robot:
Overhaul
---
Type:
Crushing Lifter
---
Team:
Team JACD
Charles Guan, Jamison Go, Adam Bercu, Dane Kouttron, Cynthia Lu, Lucy Du, Hanna Lin, Andrew Berkowitz
---
Hometown:
Cambridge, MA
---
---
---
Builders:
Charles Guan, Adam Bercu, Jamison Go, Dane Kouttron
---
Job:
Charles: Machine Shop & Fabrication Instructor, MITAdam: Engineering Consultant
Jamison: Graduate Research Assistant on Additive Manufacturing, MIT
Dane: MIT Thermonuclear Research Reactor Special Projects Engineer
---
Years competing:
13 years
---
Favorite tool:
Charles: Abrasive WaterjetAdam: Vertical Machining Center
Jamison: Orbital Sander
Dane: Overclocked oscilloscope
---
Favorite robot:
Charles: Dummy (Iron Man)Adam: ELSIE, 1948
Jamison: Baymax
Dane: The IBM 7575
---
Interesting fact:
Charles: Once received a traffic citation in a shopping cart that he converted to an electric go-kart.Adam: Toured India and rocked the American Airlines arena in Miami playing the Repinique in a Brazilian Batucada percussion/dance group.
Jamison: Won his first combat robotics tournament in 2004 at the age of 13 using his Science Olympiad entry, "RON."
Dane: Launched a high altitude imaging platform that ran out of battery on its decent. The couple who found it thought it was a beer cooler that fell from the space station.
---
Stat history
| Stats | Career | Season 2 | Season 1 |
| --- | --- | --- | --- |
| Total matches | 5 | 2 | 3 |
| Win percentage | 20% | 0% | 33% |
| Total wins | 1 | 0 | 1 |
| Losses | 4 | 2 | 2 |
| Knockouts | 1 | 0 | 1 |
| KO percentage | 20% | 0% | 33% |
| Average knockout time | 121 s | | 121 s |
| Knockouts against | 1 | 1 | 0 |
| KO against percentage | 20% | 50% | 0% |
| Judges decision wins | 0 | 0 | 0 |
Match history
| Season | Round | Opponent | Results |
| --- | --- | --- | --- |
| Season 2 | Qualifier | Cobalt | Lost by KO (1:26) |
| Season 2 | Round of 32 | Beta | Lost by JD (0-3) |
| Season 1 | Qualifier | Lock-Jaw | Lost by JD (2-1) |
| Season 1 | Round of 16 | Lock-Jaw | Won by KO (2:01) |
| Season 1 | Quarterfinals | Bite Force | Lost by JD (3-0) |